null
null
Halloween tips and treats
In fact, it's the one day of the year where it's okay to act like a kid! Ready to have the best Halloween ever? We've put together some tips and ideas to help you have a spooky, fun-filled – but safe – Halloween.
First, some safety tips
With witches, ghosts and superheroes descending on neighbourhoods across Canada, the Canadian Red Cross offers parents some common-sense safety tips to help prepare their children for the best trick-or-treat experience.
Be visible! Costumes should be light-coloured and flame-resistant with reflective strips so children can be easily seen. (Put reflective tape on bikes, skateboards, and brooms, too!) Carry a flashlight.
Check the treats. Remind children not to eat their goodies until they are examined by an adult at home. Candy should not be eaten if the package is already opened. Avoid small, hard pieces of candy – they are a choking hazard for young children.
Go in a group. Trick-or-treaters should travel in groups of four or five. Young children should be accompanied by an adult. Only visit homes with the porch light on.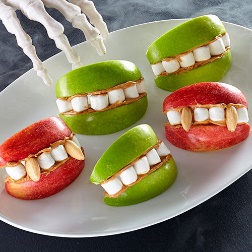 Make a spooky treat together
Make these scary vampire teeth with your kids for a fun, healthy Halloween snack!
You will need
1 medium apple
¼ cup (50 ml) creamy peanut butter
25 mini marshmallows
Whole blanched almonds (optional)
How to make them
Step 1: Cut apple into 10 wedges using apple wedger and discard core.
Step 2: Spread peanut butter along one side of each apple slide.
Step 3: For teeth, place 5 marshmallows in the peanut butter on 5 of the apples, close to the skin side of the apple.
Step 4: Press remaining five apple slices down onto the marshmallows to form a 'sandwich' (resembling a mouth).
Step 5: For scary vampire teeth, substitute whole blanched almonds for marshmallows.
Frightful family fun
1. Watch a spooky – but kid-friendly – flick! Here are 3 to try:
The Goonies (1985)
To save their home from foreclosure, a group of misfit kids set out to find One-Eyed Willie's treasure in underground pirate caves. It's a race against the evil Fratelli family to find the gold first.
It's the Great Pumpkin, Charlie Brown (1966)
A perennial favourite, Linus waits for The Great Pumpkin all night in a pumpkin patch, while Charlie Brown goes trick or treating with the Peanuts gang – and ends up with a bag full of rocks.
Casper (1995)
Based on the 1940-50s cartoon about the friendliest ghost in town, this '90s update is a great movie for the whole family. When a spoiled woman inherits a mansion, she must expel the house's inhabitants to get to the treasure – Casper the friendly ghost and his three wise-cracking uncles. Fun and laughter follows.
2. Visit your local pumpkin patch.
Pumpkins, corn mazes, wagon rides, and delicious treats – they all await at the pumpkin patch! Round up the troops and head to a local farm to pick out a nice big pumpkin, perfect for jack-o'-lantern carving.
More on this topic
10 Halloween Safety Tips
How to have a Safe Halloween
Activities to do this Halloween
Original idea and image source: Pampered Chef U.S
The information and advice in this article are provided for informational purposes only. The Personal shall not be liable for any damages arising from any reliance upon such information or advice.